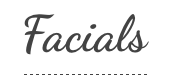 My LA Face | Best Acne Treatment Los Angeles
melissa's clear complexion acne facial
This therapeutic acne facial includes steam and deep pore cleansing followed by a customized exfoliation treatment which exfoliates and removes accumulated skin cells inside the oil gland to unclog pores. Blemishes, such as blackheads, whiteheads, milia will be removed. High frequency is then used to purify and oxygenate the tissues, kill acne bacteria, and aids in the healing of the skin. Depending on the severity of the acne, this facial treatment may be done in 2-4 week intervals until under control, and maintained thereafter every 4-6 weeks.
Suitable for oily, congested or acne-prone skin (55 min)
Need extensive extractions (75 min)
melissa's ultimate custom facial
Everyone's skin is unique and must be treated accordingly. Thoughtful care is given to sensitivity, problem areas, and the most effective treatment to correct or improve imperfections. Steam is applied to clear out congestion and reveal a fresh complexion followed by a deep cleanse and customized exfoliation treatment using either a light enzyme or gentle fruit acids to polish away impurities. Delicate extractions, if necessary, will be performed followed by a customized application of results enhancing serums, skin specific masks, moisturizers, and an SPF to protect and improve your complexion. Rejuvenation, oily, acne, rosacea, dehydration, large pores, are all treatable. (55 min)
ultimate vitamin a facial
This treatment is the perfect pick me up for dull and lifeless looking skin. This powerful retinol blend will quench the thirst of dry/dehydrated skin while providing your skin with an instant radiance. The Ultimate Vitamin A Facial will leave your skin with a more firm, healthy appearance.
Benefits:
Helps reduce and prevent pigmentation
Brightens and uniforms skin tone
Provides a smoother, softer appearance of the skin
Reduces the appearance of fine lines and wrinkles
Smoothes rough texture
Minimizes pore size
Rebuilds collagen and skin thickness
Soothes and reduces irritation
Melissa's Signature Refining & Firming Facial with Microdermabrasion
As we age, we lose collagen, elasticity, and hydration. This treatment is designed to cleanse, nourish, revitalize, and protect the skin. This advanced deep-cleansing facial uses a light glycolic peel to exfoliate layers of dead surface cells. Delicate extractions, if necessary, will be performed. High frequency is used to stimulate blood flow, purify, and oxygenate the tissues. A Diamond Peel Microdermabrasion will then be performed to help retexturize the skin, soften fine lines, brighten complexion, and purify pores. This facial treatment is customized to treat oil, dry mature, congested skin, and is a MUST before any big event! There is no redness or irritation. Just radiant skin!
Melissa's Teen Clean & Clear Acne Facial
Get serious about clearing up persistent acne. This acne facial includes a deep pore cleansing, followed by a customized exfoliation treatment, gentle yet thorough extractions on impurities, and a soothing mask. Four to five consecutive facials is recommended once a week to deep clean and rebalance teenage acne.
diamond peel treatment
This treatment peels away dead skin cells and gently exfoliates the upper most layer of the skin revealing a much healthier complexion by revitalizing the skin and encouraging blood flow. Ideal for softening fine lines and wrinkles, acne scarring, and hyperpigmentation. This is a non-invasive procedure that requires no downtime. This treatment can also be performed on: neck, chest, hands, abdomen, shoulders, upper arms, and back for an additional cost.
Melissa's Ultrasonic Facial
Correct, Replenish, and Nourish your skin using Ultrasonic. Ultrasonic skin rejuvenation repairs your skin and stimulates your skin's natural healing. This high-tech facial uses a specialized ultrasonic machine that emits high frequency waves stimulating the skin's surface and cells instantly. With this treatment, any number of treatment compounds (of our choice) can be administered into the skin by driving facial nutrients into the deepest layers of the epidermis forming new cells and making skin more resilient. Ultrasound waves penetrate the skin to deep cleanse, hydrate, promote collagen production, and kill bacteria. Increased oxygen and blood circulation to underlying tissues leaves your skin thoroughly cleansed, exfoliated, revitalized and glowing. Acne, enlarged pores, fine lines, wrinkles, sagging skin, puffy eyes, scar tissue, acne scars, and pigmentation damage are all treatable with Ultrasonic.(55 min)
Melissa's microcurrent therapy facial treatment
This rejuvenating treatment is a painless, non-invasive process of supplying low level electrical current, such as that found naturally in the body, to the surface of the skin, where it reaches injured cells and restores them to natural balance. These tiny microcurrent impulses trigger chemical reactions at a cellular level to enhance the production of natural collagen and elastin, providing circulatory benefits, and assisting in product penetration (iontophoresis). Microcurrent improves the muscle reception and re-educates the muscles to respond more effectively to regulate nerve stimulation. The results is visible firming, and smoothing of the skin which gives skin a more youthful glow! For maximum results, this treatment is usually prescribed in a series of 6-10 to build muscle memory. Effects of microcurrent are cumulative, becoming more pronounced after each treatment. Each treatment takes approximately 60 minutes.
microcurrent eye lift
Can be added to any facial treatment. Takes approximately 20 minutes.
Best Acne Treatment Los Angeles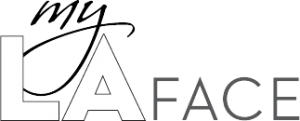 MY LA FACE
1796 Kelton Ave
Los Angeles, CA 90024
(310) 330-6216
Best Acne Treatment Los Angeles
More About: Acne Facials Los Angeles