Acne Facials Los Angeles
Category: Acne Facials Los Angeles
Acne facials are designed to treat the root cause of acne with minimal side effects. This kind of facial is a multi-step skin treatment that is one of the best ways to take care of your skin. Acne facials focus primarily on extractions for blocked pores.
Our facials are designed to:
eliminate clogged pores
blackhead and whitehead removal
eliminate other impurities affecting the appearance and overall health of the skin
The acne facial starts with steam to stimulate blood circulation. The next step is a thorough facial cleansing and exfoliation process followed by extractions. The extraction process releases any excess build-up of oil, blackhead and whitehead removal, pustules (pimples) and cleans out dirt that might be clogging the pores. High frequency is then used to kill any bacteria, and a customized mask is applied to calm the skin. The main benefit of this type of facial is to reduce facial acne. This type of facial will help rebalance the skin. It will also promote a clear, well hydrated complexion. At our Los Angeles location, we perform facials and acne facials on both women and men.
Acne Facials Los Angeles
My LA Face uses pharmaceutical medical-grade products to deliver the maximum health of your skin. Our goal is to transform your skin by using products that increase cellular turnover. Exfoliating with a scrub, glycolic acid, salicylic acid on a regular basis will help slough off dead, dull, aging skin by promoting growth of new healthy skin. Maintaining healthy looking skin is achieved by using the correct moisturizer, protection from environmental damage known as free radicals, and maintaining a balanced pH level. An imbalance of your pH level is known to cause acne, flaking, skin thickening, uneven skin tone, dark circles, and premature wrinkles.
Real Results
Medical grade products are far superior than over-the-counter products as they produce real results. We use them because they have a higher percentage of active ingredients which in turn produces faster & more effective results. They are clinically proven by medical professionals and the ingredients used are considered the highest quality and safest for use on your skin.
We have selected the top proven medical grade skin care lines to help you achieve clear, youthful, and healthy skin. Please request a Consultation at our Acne Facials Los Angeles office to learn more about the difference medical-grade skin care products can make in your skins health.
Read More: Best Acne Treatment Los Angeles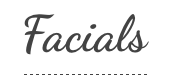 Advanced Acne Treatment Facial · $165.00 (75 minutes) · $135 (55 minutes)
This facial treatment consists of highly effective, advanced therapies to kill bacteria, reduce inflammation, and build up your skin's overall health to overcome active acne, scarring and prevent future breakouts.
Deep extractions, high frequency, LED – Recommended for mild to extreme acne.


Deep Pore Cleansing Facial · $140.00
This facial focuses on blackhead and/or whitehead removal mainly in the T-Zone areas with occasional breakouts, treats uneven texture and dull skin. Includes LED.
Great Add Ons- Microdermabrasion, Hydrodermabrasion, Resurfacer Peel (55 minutes)
The Signature Facial · $150.00
Recommended for 1st time clients!
Restore healthy balance to your skin with this treatment that combines skin-type specific cleansing, exfoliation, extractions, and a treatment mask. (55 min)
90 Minute Customized Skin Treatment Facial · $175.00
This treatment is customized for your personal skincare goals!
A wide variety of corrective facial skincare treatments can be included in one or more of the following:
Oxygen Therapy, Ultrasonic, Microcurrent, Microdermabrasion, RF, Hydrodermabrasion, Resurfacer Power Peel, and targeted serums & mask. Light extractions only is also included. This treatment is not recommended for acne or deep pore cleansing.
ER Extraction + High Frequency · $30.00
(Established clients only)
Meant for 1-3 lesions only. The lesion must be inflamed and white on the surface. (5-10 min)
Milia Removal Treatment:
A consultation is needed before scheduling.

Melissa's Teen Clean & Clear Acne Facial · 12+years
$125 (1 hr) · $90.00 (40 min)
I want to help educate your teen about proper skincare routines, diet, lifestyle changes that relate to stubborn flare-ups,
cysts, scars, and acne congestion.
A Teen Facial is designed to promote and encourage healthy skin care habits. This facial addresses skin problems such as oily skin, clogged pores, stubborn acne and other skin conditions.
If your teen is apprehensive with manual extractions, I recommend the Hydrodermabrasion treatment. The hydro tip glides over the skin without friction or irritation. It sheds dead skin cells (cleansing), extracts blackheads and provides the skin with vital nourishment & moisture. Not suitable for for Grade 4 acne. LED light included.
Microcurrent and Microcurrent Eye Lift
Can be added to any facial treatment. Takes approximately 20 minutes.
Read More: Best Acne Treatment Los Angeles
Acne Facials Los Angeles
MY LA FACE / Sola Salon Studios
12121 Wilshire Blvd,
Los Angeles, CA 90025
Suite 102/Studio 17
(310) 330-6216