Acne Facials Los Angeles
Category: Acne Facials Los Angeles
Acne facials are designed to treat the root cause of acne with minimal side effects. This kind of facial is a multi-step skin treatment that is one of the best ways to take care of your skin. Acne facials focus primarily on extractions for blocked pores.
Our facials are designed to:
eliminate clogged pores
blackhead and whitehead removal
eliminate other impurities affecting the appearance and overall health of the skin
The acne facial starts with steam to stimulate blood circulation. The next step is a thorough facial cleansing and exfoliation process followed by extractions. The extraction process releases any excess build-up of oil, blackhead and whitehead removal, pustules (pimples) and cleans out dirt that might be clogging the pores. High frequency is then used to kill any bacteria, and a customized mask is applied to calm the skin. The main benefit of this type of facial is to reduce facial acne. This type of facial will help rebalance the skin. It will also promote a clear, well hydrated complexion. At our Los Angeles location, we perform facials and acne facials on both women and men.
Acne Facials Los Angeles
My LA Face uses pharmaceutical medical-grade products to deliver the maximum health of your skin. Our goal is to transform your skin by using products that increase cellular turnover. Exfoliating with a scrub, glycolic acid, salicylic acid on a regular basis will help slough off dead, dull, aging skin by promoting growth of new healthy skin. Maintaining healthy looking skin is achieved by using the correct moisturizer, protection from environmental damage known as free radicals, and maintaining a balanced pH level. An imbalance of your pH level is known to cause acne, flaking, skin thickening, uneven skin tone, dark circles, and premature wrinkles.
Real Results
Medical grade products are far superior than over-the-counter products as they produce real results. We use them because they have a higher percentage of active ingredients which in turn produces faster & more effective results. They are clinically proven by medical professionals and the ingredients used are considered the highest quality and safest for use on your skin.
We have selected the top proven medical grade skin care lines to help you achieve clear, youthful, and healthy skin. Please request a Consultation at our Acne Facials Los Angeles office to learn more about the difference medical-grade skin care products can make in your skins health.
Read More: Best Acne Treatment Los Angeles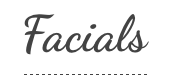 melissa's clear complexion acne facials
These therapeutic acne facials include steam and deep pore cleansing. They're then followed by a customized exfoliation treatment which exfoliates and removes accumulated skin cells inside the oil gland to unclog pores. Blemishes, such as blackheads, whiteheads, milia will be removed. High frequency is then used to purify and oxygenate the tissues, kill acne bacteria, and aids in the healing of the skin. Depending on the severity of the acne, this facial treatment may be done in 2-4 week intervals until under control, and maintained thereafter every 4-6 weeks.
Suitable for oily, congested or acne-prone skin (55 min)
Need extensive extractions (75 min)
melissa's ultimate custom facial
Everyone's skin is unique and must be treated accordingly. Thoughtful care is given to sensitivity, problem areas, and the most effective treatment to correct or improve imperfections. Steam is applied to clear out congestion and reveal a fresh complexion. Then followed by a deep cleanse and customized exfoliation treatment. We use either a light enzyme or gentle fruit acids to polish away impurities. Delicate extractions, if necessary, will be performed. Then followed by a customized application of results enhancing serums, skin specific masks, moisturizers. Plus an SPF to protect and improve your complexion. Rejuvenation, oily, acne, rosacea, dehydration, large pores, are all treatable. (55 min)
Read More: Best Acne Treatment Los Angeles
Acne Facials Los Angeles
MY LA FACE
1796 Kelton Ave
Los Angeles, CA 90024
(310) 330-6216